Online Live Sessions in Adobe Connect Virtual Classroom
High Quality, Affordably Priced Lean Healthcare Certification Training!
Since 2011, this program has been certifying healthcare professionals to apply the concepts of continuous improvement to create and sustain a more productive and cost effective healthcare delivery organization. Through 16 units & 65 lessons, candidates learn to apply the methods that help hospitals and clinics implement a culture of continuous improvement and use methods such as lean management and practices like the Toyota Production System.
The program provides a quality principles overview, in-depth instruction in management by fact, and a structured performance improvement methodology used by Lean Six Sigma Black Belts and Master Black Belts worldwide.

The curriculum is derived from five sources:
The American Society of Quality's Lean Six Sigma Body of Knowledge.
The Malcolm Baldrige Healthcare Criteria for Performance Excellence.
The isixsigma.com Lean Six Sigma Body of Knowledge.
The Project Management Institute's Project Management Body of Knowledge.
Curriculum and Best Practices from the finest Healthcare Systems Nationwide.
Designed for working professionals, TPMG's online lean six sigma program for healthcare is patterned after online Global MBA Management Courses. You will have:
Immediate access to course work at anytime from anywhere
Engaging online lectures
Interactive chats/bulletin boards
Online collaboration with your Master Black Belt Instructor and classmates using technology of modern global business
Learning Outcomes
With successful completion of this program, each candidate will receive a Lean Six Sigma Black Belt Certification in Healthcare Performance Improvement and will be qualified to:
Identify and prioritize lean and continuous improvement projects.
Execute the standard process improvement methodology to support performance excellence in the field and on an ongoing basis.
Use continuous improvement methods to improve and sustain patient satisfaction.
Apply lean methodology and six sigma practices in healthcare facilities to improve operational efficiency and service excellence.
Lead hospital executives and performance improvement staff in identifying lean opportunities across the enterprise.
Oversee development and execution of lean project plans to support process improvement initiatives.
Use Lean 5S, Value Stream Mapping, and other lean process activities in support of performance improvement initiatives.
Topics
The subjects and topic areas include:
Lean Principles and Applications
The Voice of the Patient (Patient Satisfaction)
Six Sigma Tools for Continuous Improvement
Criteria for the Malcolm Baldrige National Quality Awards
The Balanced Scorecard Strategy Management System

Each candidate will receive:
450+ page hard copy manual for Black Belt Certification.
Software application for the lean six sigma tool kit.
6 months access to the online classroom and content library.
Online self-paced seminars and live instruction.
10 hours of live certification project coaching and mentoring.
Black belt certification exam.
12 continuing educational units (CEUs).
120 professional development units (PMI PDUs).
The program is both online self-paced and blended instruction.
Fees:
NOTE: Online Self-Paced Candidates Can Enroll at Anytime
Online Lean Six Sigma Black Belt Certification for Healthcare:
$2,300.00 per candidate - To Enroll Now, click here
6 Week - Next Online Blended Cohort Begins:
June 06, 2022 (Seats are limited to 12 candidates- Register today!)
For more information:
TPMG Global ©
Lean Six Sigma Advising Team
P.O. Box 44989
Phoenix, AZ 85064
E-mail: info@helpingmakeithappen.com
Phone: US.1.602.692.5073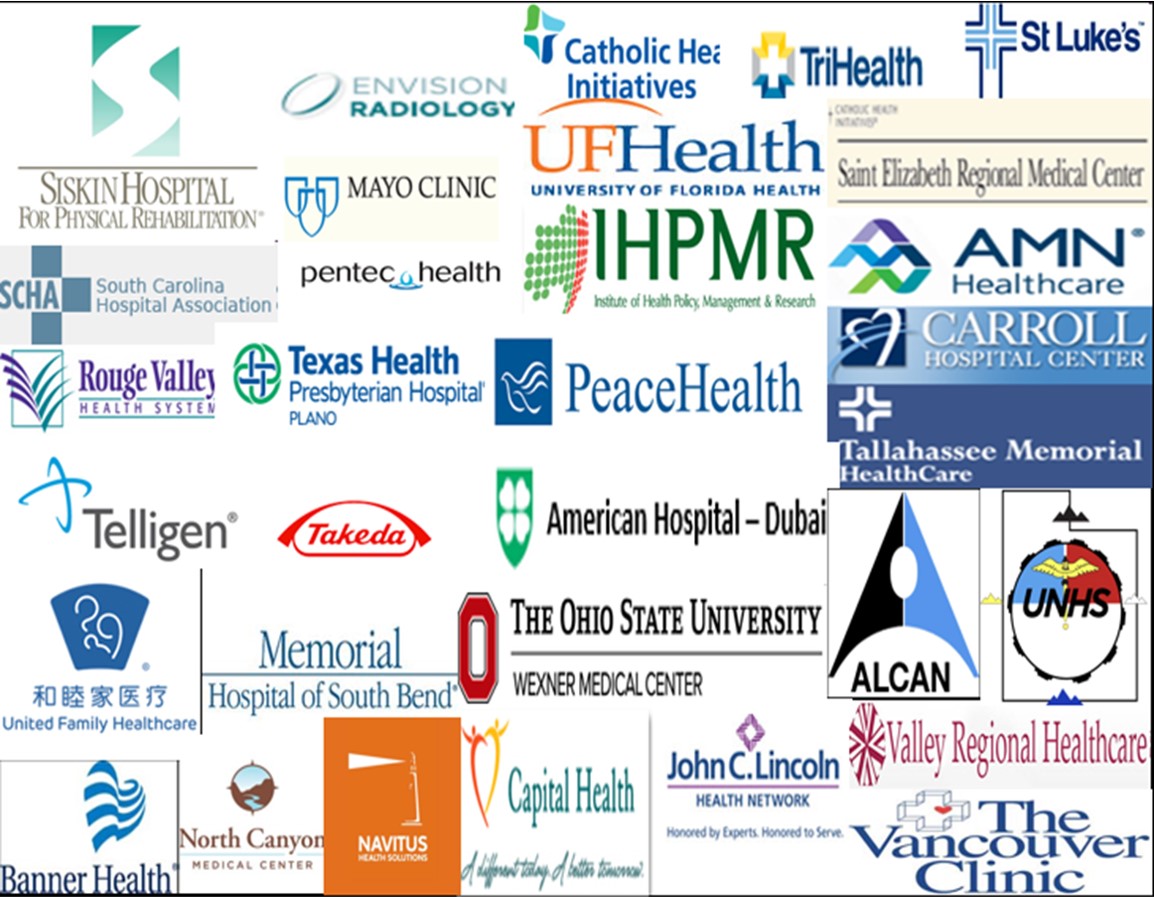 Our Healthcare Footprint Includes:
Lean Six Sigma Excellence
in Healthcare Delivery
Online Black Belt Certification

Lean Six Sigma Excellence in Healthcare Delivery
means helping improve patient outcomes while driving down
the cost of patient care! In this online self-paced or blended program of study, learn to apply the concepts of continuous improvement to create a productive, efficient and cost effective healthcare delivery organization.