We engage with our clients and create road maps to generate competitive advantages and then help them translate winning strategies into action. The focus is on creating and sustaining value.
We have combined Lean Management with Robotics Process Automation (RPA) to create a powerful approach that eliminates waste, improves productivity and reduces the cost of doing business.
Areas of Practice
Strategy
Operational Excellence
Analytics
Helping You Make It Happen!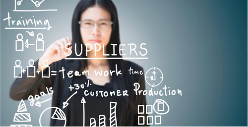 We provide the infrastructure and expertise to help our clients use data, metrics and performance analysis to produce more clear, better quality decisions. The focus is on managing performance.