Process Transformation Workshops

The TPMG process transformation workshop is a rapid improvement event executed by a workout team to streamline, simplify, and standardize value streams.
More than just a 3 - 5 day event, the workout's mission is to deliver enhanced operational efficiencies within 12 to 15 weeks. A workshop achieves these goals through re-engineering the working relationships an organization's people have with their procedures, material, data & information flows, and technology,
The TPMG process transformation workshop is a value added consulting service our clients leverage to overcome the most frequent failure modes of a digital transformation effort. We ensure success by performing:
Operational Due Diligence
Process Mapping and Full Current State Analysis
Workshop Solve Sessions
Future State Process Design and Value Analysis
Executive Pitch Deck Presentations
A Value Added Consulting Service: Where do I get my return on investment?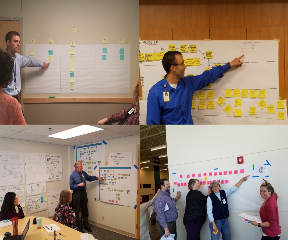 Contact us, share your challenge, learn our value added approach and affordable pricing structures:
The purpose of a TPMG Process Transformation Workshop is to translate the current state of operations into a more efficient and investible future state. We accomplished this by leveraging the knowledge and expertise of our client's employees with operational excellence methods and technology solutions to ensure client value streams are more efficient and cost effective.
The workshop is a structured meeting of subject matter experts. It is a professionally facilitated discussion among process owners, employees and decision makers with a focus on ROI and a goal of generating value added solutions that will translate their operations into an efficient, investible future state.
Outcomes you can expect:
A business case score and charter for the workshop.
As-is process map.
Quantitative and qualitative analysis of the current state.
Future state process map design with qualified solutions.
Value analysis and scoring of future state solutions (NPV, ROI, PBP, IRR).
A change management plan with objectives and key results (OKRs).
Executive proposals and presentations.
Process Transformation Workshops
Streamline, Simplify and Transform!